KONISHI KOI FARM & SEIRYUU KOI CARP
Founded in 1919, Konishi Koi Farm is now more than 100-Year-Old and is one of the oldest koi farms in Japan. Rich in Heritage and History, Konishi has produced many award-winning Koi throughout the years. One of the most famous trademarks of Konishi Koi Farm is their Karashigoi, a koi variety which they originally invented and bred in the early 2000s. While focusing on Kawarimono Varieties such as Kujaku, Shusui and Ochiba Shigure, Konishi also breeds High Quality Gosanke from time to time.
Based in Bandung (Indonesia), Seiryuu Koi started as a Japanese Koi Trading House in the early 2010s. In 2012, we got the chance to meet Mr. Joji Konishi, the third and current president of Konishi Koi Farm. Soon, we started the partnership and got nominated to represent Konishi Koi Farm as their official agent in Indonesia. Since then, we have delivered many awards in Koi Show Events and have also brought the satisfaction of Koi Keeping with High Quality Konishi Koi that we supply to our customers.

WHY KONISHI?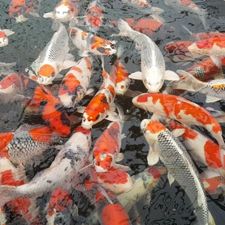 KONISHI'S NISHIKIGOI
Konishi Koi are as good as they look. Beautiful koi don't exist by mere coincidence. Instead, they are the results of extensive breeding and hard work. Today, Konishi exclusively owns more than 30 bloodlines of many varieties. If you are looking for beautiful koi for shows or just to be some lovely pets on your garden ponds, we will certainly find your needs with Konishi Koi.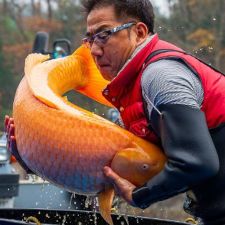 JUMBO, JUMBO & JUMBO!!!
The scariest thing for a serious Koi Keeper is a Koi fish that doesn't grow anymore. Throughout the years, many koi from Konishi are proven to grow extra JUMBO, exceeding the expectations and the standard norms of maximum size for various koi varieties.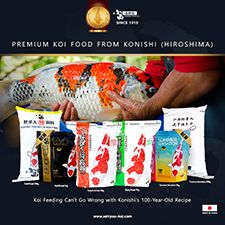 YOU ARE WHAT YOU EAT
As the saying goes, we believe that feeding is one of the most important aspects of your Koi-keeping Hobby as what your koi eat will determine what your koi will become. The Premium Koi Food from Konishi HIroshima were developed after many years of research and they contain high-quality ingredients that your koi need to reach its maximum potential in terms of size and quality. Therefore, it's the perfect choice for advanced koi-keepers.
Jl. Cipedes atas No.30 Bandung Indonesia
(WhatsApp) 0878-7787-8888